Diwali – Festival of Diyas or Light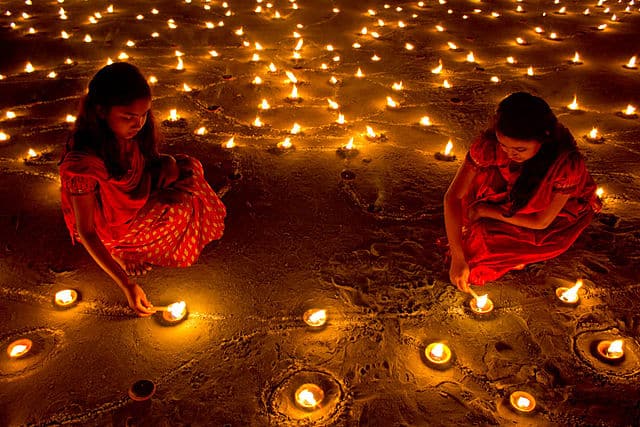 Diwali is a festival that is recognized mainly by Hindus but it carries its significance across various religions and is celebrated throughout the world. In a country such a Canada, it is a celebration of South-Asian identity. Although many countries such as India, Fiji, Guyana, Malaysia, Mauritius, Myanmar, Nepal, Singapore, Sri Lanka and more have official holiday on Diwali, the festival is primarily identified as one of the major Indian festivals.
Diwali is a shortened version of "Deepavali". It has its origin in Sanskrit word Dīpāvalī (दीपावली), translating to "Row of Lights and Lamps". A small word with a deeper spiritual meaning symbolizing victory of good over evil, hope over desolation, light over darkness and knowledge over ignorance.
India is a cultural potpourri, where rituals, along with joyous preparation of each tradition, have a lot of significance. Diwali is no exception. Celebrated across the country with high fervor and zeal, like many festivals of India, folklores also surround this festival of Diyas (Lights and Lamps); most famous pertains to Lord Rama's return from exile and his victory over the demon Ravana.
Spiritual Significance
Diwali signifies good over evil and promotes love and forgiveness. It is also the time when one needs to illuminate its inner self commit to good deed to take us closer to spirituality. The festivities throughout Diwali reflects freedom, friendliness, love and caring. It is a time when people share blessing of health, wealth, and discipline along with spiritual advancement, which ensures unity among people.
Diwali Brings Festivity, Spreads Joy & Happiness
Every autumn, comes Diwali, bearing delightful gifts, stunning fireworks and scrumptious fares. Dhanteras (revelry of health and wealth) marks the beginning of the five-day festivities and Bhai-Dooj (another version of Rakhi – to honour brother-sister bond) its end. Diwali sits prettily in the middle of these two festivals. Traditionally, families clean their homes; make numerous delicacies, wear new clothes and light fireworks to celebrate life and all its positivity. Social gatherings of families and friends share New Year wishes along with gifts, sweets and fireworks. Last but not the least, it gives hopes and aspirations to live a life of good deeds to everyone and encourages a feeling of mutual respect and bonding among people.
Nazeer Akbarabadi so beautifully captured the essence of Diwali in his Nazm (poem). An excerpt for your delight:
har ik makāñ meñ jalā phir diyā divālī kā
har ik taraf ko ujālā huā divālī kā
sabhī ke dil meñ samāñ bhā gayā divālī kā
kisī ke dil ko mazā ḳhush lagā dīvālī kā
ajab bahār kā hai din banā divālī kā
Nazeer Akbarabadi, Famous Indian poet from Agra.
English translation:
Each home is alight again with lights of Diwali,
Each place is aglow with Diwali,
Each heart likes the ambiance of Diwali,
Some hearts have happy pleasure of Diwali,
Amazing Spring-like day is Diwali.
Article Submitted by: Sowali Nirvita  Edited by Ankur Merwaha
Image Source: https://commons.wikimedia.org/wiki/File:Diwali_Festival.jpg
---
Diwali Celebrations in Vancouver Area:
Join us on Saturday, Oct 14, 2017 for Diwali Celebrations at Khanna Banquet Hall, Surrey, BC. More details about the Diwali event: https://www.icavancouver.ca/events/diwali-festival-2017-gala-dinner-party/